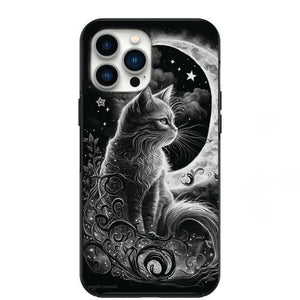 Whimsical Cat In The Moonlight Phone Case for iPhone 7 8 X XS XR SE 11 12 13 14 Pro Max Mini Note 10 20 s10 s10s s20 s21 20 Plus Ultra
Regular price $29.97 $15.95 Sale
Introducing the Whimsical Cat In The Moonlight Phone Case - Embrace the Magic of the Night!

Step into a world of enchantment with our captivating Whimsical Cat In The Moonlight phone case. This mesmerizing accessory combines the mystical allure of the moonlight with the whimsy of a curious cat, creating a perfect blend of magic and style.

Why choose our Whimsical Cat In The Moonlight phone case?

Magical Design: Immerse yourself in the ethereal beauty of a moonlit night, where a charming cat gazes up at the shimmering moon. It's a design that will transport you to a world of wonder and delight.

Premium Protection: Our phone case offers superior protection against scratches, bumps, and everyday wear and tear, ensuring your device remains safe and secure.

Artistic Expression: Crafted with attention to detail, our phone case showcases a stunning artistic representation that captures the essence of mystery and whimsy. It's a true conversation starter.

Perfect Fit: Designed to perfectly align with your device's buttons, ports, and camera, our phone case provides easy access to all functions without compromising on style or functionality.

Lightweight and Durable: Experience a slim and lightweight phone case that adds minimal bulk to your device, allowing for easy handling and convenient storage while keeping it safeguarded.

Embrace the allure of the night and the charm of a whimsical feline companion. Get your Whimsical Cat In The Moonlight phone case today and carry a touch of magic with you wherever you go.

🌙😺 Unleash the Magic with the Whimsical Cat In The Moonlight Phone Case! 😺🌙



Slim Soft Jelly Case- Soft ULTRA thin rubber like TPU flexible material with a small, raised edge around display and camera.

Slim Protection Case -The case features a lightweight hard shell, impact-resistant frame, that provides increased drop and shock protection. The rubber like material outer raised edge around the screen and camera shields the display from accidental drops & impacts, and corner protection.
Both cases are wireless charging compatible. If phone offers wireless charging.
PLEASE NOTE: We are not responsible for any damage that may occur to the phone. We recommend avoiding excessive bending to the phone case to prolong its life.
Imported; Printed and packaged in the U.S.A.