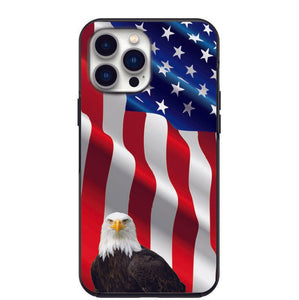 Waiving American Flag with Bald Eagle Phone Case for iPhone 7 8 X XS XR SE 11 12 13 14 Pro Max Mini Note 10 20 s10 s10s s20 s21 20 Plus Ultra
Regular price $29.97 $15.95 Sale
Introducing the USA Flag Eagle Art Phone Case: Unleash Your Patriotic Style!

🔥 Express Your Patriotism with the Ultimate USA Flag Eagle Art Phone Case! 🦅🇺🇸

Make a bold statement and protect your phone in style with our top-quality USA Flag Eagle Art Phone Case. This masterpiece showcases the iconic American flag intertwined with a majestic eagle, representing strength, freedom, and patriotism.

✨ Unmatched Protection: Our USA Flag Eagle Art Phone Case provides superior protection against everyday drops, scratches, and bumps. Crafted with durable materials and precision engineering, it ensures your phone stays safe while you conquer your day.

🇺🇸 Captivating Design: Admire the captivating beauty of our USA Flag Eagle Art Phone Case, featuring a stunning blend of the American flag and an intricately detailed eagle. The vibrant colors and artistic craftsmanship transform your phone into a true symbol of American pride.

🔒 Secure Grip: Our phone case features an ergonomic design that provides a comfortable and secure grip. With its anti-slip texture and precise cutouts, you can confidently hold your phone and navigate through your day without worry.

📐 Perfect Fit: The USA Flag Eagle Art Phone Case is designed to perfectly fit your phone, allowing easy access to all buttons, ports, and features. It supports wireless charging and preserves the functionality of your device while enhancing its visual appeal.

🌟 Embrace Your Patriotism: With the USA Flag Eagle Art Phone Case, you can proudly display your love for the United States wherever you go. It's a powerful way to express your patriotism and showcase your unique style.

🎁 The Perfect Gift: Looking for a thoughtful gift for a fellow patriot? Our USA Flag Eagle Art Phone Case is an ideal choice. Surprise your friends, family, or loved ones with this exquisite accessory that embodies the spirit of American heritage.

Slim Soft Jelly Case- Soft ULTRA thin rubber like TPU flexible material with a small, raised edge around display and camera.
Slim Protection Case -The case features a lightweight hard shell, impact-resistant frame, that provides increased drop and shock protection. The rubber like material outer raised edge around the screen and camera shields the display from accidental drops & impacts, and corner protection.
Both cases are wireless charging compatible. If phone offers wireless charging.
PLEASE NOTE: We are not responsible for any damage that may occur to the phone. We recommend avoiding excessive bending to the phone case to prolong its life.
Imported; Printed and packaged in the U.S.A.