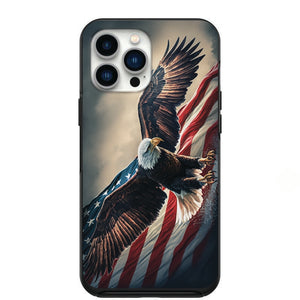 USA flag and flying America Eagle Phone Case for iPhone 7 8 X XS XR SE 11 12 13 14 Pro Max Mini Note 10 20 s10 s10s s20 s21 20 Plus Ultra
Regular price $29.97 $15.95 Sale
Celebrate Your American Pride with our Majestic USA Flag and Flying America Eagle!

Introducing the perfect symbol of patriotism and freedom—the USA Flag with a stunning Flying America Eagle! 🇺🇸🦅

Immerse yourself in the spirit of liberty as you gaze upon our meticulously crafted flag, adorned with vibrant stars and stripes that proudly represent the land of the free and the home of the brave.

But it doesn't stop there. This extraordinary flag features a magnificent eagle in flight, capturing the essence of American strength and resilience. Its wings spread wide, embodying the indomitable spirit of our great nation.

Whether you're displaying it in your home, office, or at a community event, this USA Flag and Flying America Eagle will evoke a sense of awe and inspire unity among all who see it.

Crafted with the utmost care and using premium materials, our flag ensures durability and longevity, so it can be cherished for generations to come. The colors will remain vibrant, regardless of weather conditions, ensuring it stands proud in every season.

Get ready to bask in the admiration and appreciation of your friends, family, and neighbors as you proudly fly this iconic symbol of American heritage.

Order your USA Flag with a Flying America Eagle today and let your patriotism soar to new heights! 🇺🇸🦅

Soft Case is Soft thin rubber like TPU material
Hard Case is a dual layer case with soft inner liner and hard outer shell
Notched for cord connections, speakers, camera and volume toggles
Rubber button covers
PLEASE NOTE: We are not responsible for any damage that may occur to the phone. We recommend avoiding excessive bending to the phone case to prolong its life.
Imported; processed and printed in the U.S.A.