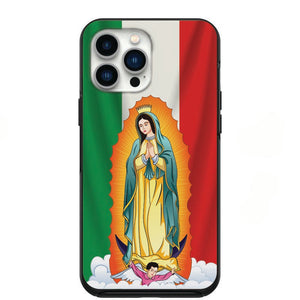 Mexican Flag & Virgin Mary Phone Case for iPhone 7 8 X XS XR SE 11 12 13 14 Pro Max Mini Note s10 s10plus s20 s21 20plus
Regular price $29.97 $15.95 Sale
Introducing Our Exquisite Mexican Flag & Virgin Mary Phone Case – Celebrate Mexican Heritage in Style!

Show your love for Mexico and embrace your faith with our stunning Mexican Flag & Virgin Mary phone case. Crafted with care, this unique case combines the iconic Mexican flag design with a sacred representation of the Virgin Mary, creating a powerful symbol of culture and spirituality.

✨ Unparalleled Quality: Our phone case is made from high-grade materials to ensure durability and long-lasting protection for your device. Trust in its rugged construction to shield your phone from scratches, bumps, and daily wear and tear.

🇲🇽 Honor Your Roots: Proudly display the colors of Mexico wherever you go. The Mexican flag design on our phone case embodies the essence of your heritage, allowing you to showcase your national pride and cultural identity with every glance.

🙏 Divine Inspiration: The inclusion of the revered Virgin Mary adds a touch of divine grace to this exceptional phone case. Carry a symbol of faith and spirituality with you, serving as a reminder of the values and traditions that shape your life.

🎨 Vibrant Design: Our Mexican Flag & Virgin Mary phone case features vivid colors that pop, capturing the essence of the Mexican flag's rich symbolism. The design is intricately detailed, ensuring an eye-catching accessory that turns heads and sparks conversations.

📱 Perfect Fit: Designed to perfectly match your phone model, our case provides easy access to all buttons, ports, and features, allowing seamless functionality without compromising on style or protection.

🌟 Stand Out from the Crowd: With our Mexican Flag & Virgin Mary phone case, you'll make a bold statement wherever you go. Express your individuality and let your phone reflect your unique personality with this exquisite accessory.• Slim Soft Jelly Case- Soft ULTRA thin rubber like TPU flexible material with a small, raised edge around display and camera.

• Slim Protection Case -The case features a lightweight hard shell, impact-resistant frame, that provides increased drop and shock protection. The rubber like material outer raised edge around the screen and camera shields the display from accidental drops & impacts, and corner protection.
• Both cases are wireless charging compatible. If phone offers wireless charging.
• PLEASE NOTE: We are not responsible for any damage that may occur to the phone. We recommend avoiding excessive bending to the phone case to prolong its life.
• Imported; Printed and packaged in the U.S.A.