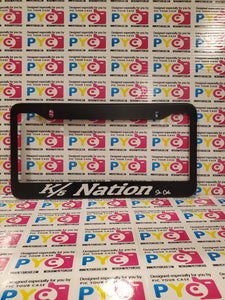 K5 NATION PLATE BLACK FRAME
Regular price $29.99 $20.00 Sale
Introducing the Sleek Black Powder-Coated K5 Nation So Cal Plate Frame - Elevate Your Ride in Style!
🌟 Ride with Pride with K5 Nation 🌟
Transform your vehicle into a statement of identity and pride with our premium Black Powder-Coated Plate Frame featuring the iconic K5 Nation So Cal logo in crisp white print.
✨ Key Features: 🚗 Universal Fit: Designed to fit most standard license plates. 🖤 Elegant Black Finish: Adds a touch of sophistication to your vehicle. 🌴 So Cal Vibes: Showcase your love for K5 Nation and So Cal lifestyle. 👌 Durable and Weather-Resistant: Built to withstand the elements. 🔧 Easy Installation: Quick and hassle-free setup for your convenience.
Upgrade your car's aesthetics while representing the K5 Nation spirit wherever you go.
Get yours today and ride with K5 Nation pride!
Limited Stock Available - Order Now! 
Elevate your ride, embrace the K5 Nation So Cal vibes!
#K5NationSoCal #RideInStyle #PlateFrameUpgrade