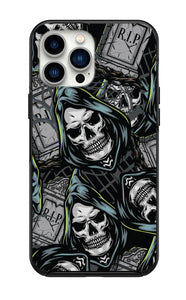 Halloween Grim Reaper Rip for iPhone 14 14 pro 14pro max 13 12 11 Pro Max Case iPhone 13 12 Mini XS Max XR 6 7 Plus 8 Plus
Regular price $29.97 $15.95 Sale
"Summon Halloween Vibes with Our Grim Reaper Rip Phone Case - Embrace the Dark Aesthetic!

🌑 Embrace the allure of Halloween with our Grim Reaper Rip phone case. This mesmerizing accessory captures the essence of the season, bringing a touch of darkness and mystery to your device.

⚔️ Elegantly Dark: Our phone case showcases a haunting design featuring the Grim Reaper in a chilling pose. It's a statement piece that embodies the enigma of Halloween.

🎃 Premium Protection: Expertly crafted, our case shields your device from life's inevitable bumps while enhancing your Halloween style. Express your affinity for the macabre while keeping your phone secure.

🔒 Perfectly Practical: Enjoy seamless access to all your phone's functions while keeping it snug and safeguarded. Our case strikes the perfect balance between functionality and protection.

📸 Instagram-Worthy: Capture the captivating aesthetics of your phone case and share the Halloween magic with your followers. Watch the admiration pour in for your distinct taste.

This form-fitting custom designed case is a great way to add a little personality to your phone. Sleek and lightweight, this protective cover helps to avoid scratches, scuffs, chips and cracks, and can act as a good buffer should you accidentally drop your phone. Wireless charging compatible if phone offers feature.

Soft Case is Soft thin rubber like TPU material- Wireless Charging compatible

Hard Case is a dual layer case with soft inner liner and hard outer shell
(Slim yet still offers great protection) - Wireless Charging compatible

Notched for cord connections, speakers, camera and volume toggles
Rubber button covers
PLEASE NOTE: We are not responsible for any damage that may occur to the phone. We recommend avoiding excessive bending to the phone case to prolong its life.
Imported; processed and printed in the U.S.A.