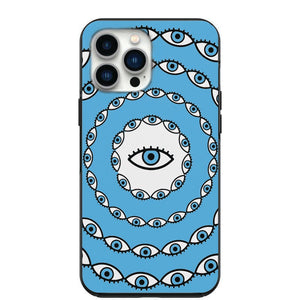 Evil Eyes Blue Phone Case for iPhone 7 8 X XS XR SE 11 12 13 14 Pro Max Mini Note s10 s10plus s20 s21 20plus
Regular price $29.97 $15.95 Sale
Introducing the Ultimate Evil Eye Blue Phone Case - Protect and Style!

Unlock a world of mystic allure with our exclusive Evil Eye Blue Phone Case. Crafted with precision and designed to captivate, this accessory combines powerful protection with eye-catching aesthetics. Embrace the ultimate blend of functionality and fashion, all while ensuring your device stays safe from scratches, drops, and everyday mishaps.

Why choose our Evil Eye Blue Phone Case?

Unmatched Protection: Shield your precious phone from the evil forces of accidents and impacts. Our case provides rugged defense against bumps, scratches, and even the occasional drop.

Enchanting Design: Inspired by ancient talismans, the Evil Eye Blue design exudes an air of intrigue and elegance. With its vivid blue hues and intricate patterns, your phone will become an object of envy and fascination.

Perfect Fit: Meticulously engineered to fit your specific phone model, our case offers precise cutouts for buttons, ports, and cameras. Experience seamless access to all features without compromising on protection.

Premium Quality: Crafted with the highest standards in mind, our Evil Eye Blue Phone Case is made from durable materials that ensure long-lasting resilience. It's built to withstand the tests of time and remain a timeless accessory.

Anti-Slip Grip: We understand the importance of a secure hold. Our case features a textured surface that provides a comfortable grip, reducing the risk of accidental slips or drops.
• Slim Soft Jelly Case- Soft ULTRA thin rubber like TPU flexible material with a small, raised edge around display and camera.
Lightweight and Slim: Say goodbye to bulky cases that weigh you down. Our Evil Eye Blue Phone Case offers a slim profile, maintaining the sleek aesthetics of your phone without compromising on protection.

Unlock the Power of Evil Eye Blue - Order Yours Today!

Combine style, protection, and enchantment with our Evil Eye Blue Phone Case. Whether you're drawn to its captivating design or its superior defense, this accessory is a must-have for the modern phone owner. Don't miss out on the chance to safeguard your device in style - order your Evil Eye Blue Phone Case now!
• Slim Protection Case -The case features a lightweight hard shell, impact-resistant frame, that provides increased drop and shock protection. The rubber like material outer raised edge around the screen and camera shields the display from accidental drops & impacts, and corner protection.
• Both cases are wireless charging compatible. If phone offers wireless charging.
• PLEASE NOTE: We are not responsible for any damage that may occur to the phone. We recommend avoiding excessive bending to the phone case to prolong its life.
• Imported; Printed and packaged in the U.S.A.