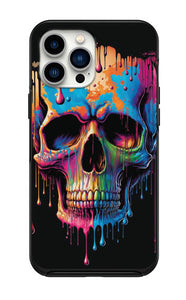 Dripping Colorful Wax Skull Case for iPhone 14 14 pro 14pro max 13 12 11 Pro Max Case iPhone 13 12 Mini XS Max XR 6 7 Plus 8 Plus
Regular price $29.97 $15.95 Sale
"Introducing Our Mesmerizing Dripping Colorful Wax Skull Phone Case - Protect and Style in One!

Experience the ultimate fusion of protection and artistry with our Dripping Colorful Wax Skull phone case. Crafted to perfection, this case not only safeguards your device but also turns it into a stunning masterpiece.

🎨 Vibrant Aesthetics: Our phone case features a captivating design of dripping, colorful wax that forms an intricate skull pattern. Stand out from the crowd and showcase your unique style.

🛡️ Premium Protection: Engineered with high-quality materials, our case provides robust protection against drops, scratches, and everyday wear and tear. Keep your phone safe and secure at all times.

✅ Seamless Fit: Designed to perfectly hug your device, the case offers easy access to all ports, buttons, and features without adding bulk. Say goodbye to inconvenience.

🌟 Express Yourself: Let your phone case be an extension of your personality. With its vivid colors and eye-catching design, you're sure to make a statement wherever you go.

📷 Instagram-Worthy: Capture attention and likes with photos of your artistic phone case. Share your creativity with the world and spark conversations.

This form-fitting custom designed case is a great way to add a little personality to your phone. Sleek and lightweight, this protective cover helps to avoid scratches, scuffs, chips and cracks, and can act as a good buffer should you accidentally drop your phone. Wireless charging compatible if phone offers feature.

Soft Case is Soft thin rubber like TPU material- Wireless Charging compatible

Hard Case is a dual layer case with soft inner liner and hard outer shell
(Slim yet still offers great protection) - Wireless Charging compatible

Notched for cord connections, speakers, camera and volume toggles
Rubber button covers
PLEASE NOTE: We are not responsible for any damage that may occur to the phone. We recommend avoiding excessive bending to the phone case to prolong its life.
Imported; processed and printed in the U.S.A.