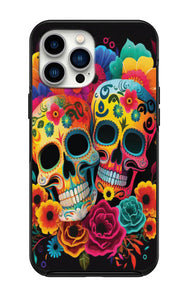 Day of The Dead Couple Case for iPhone 14 14 pro 14pro max 13 12 11 Pro Max Case iPhone 13 12 Mini XS Max XR 6 7 Plus 8 Plus
Regular price $29.97 $15.95 Sale
""Celebrate Eternal Love with Our Day of the Dead Couple Phone Case! 💀❤️📱

Searching for a phone case that commemorates love and artistry? Your quest ends here! Introducing our latest Day of the Dead Couple phone case – a stunning tribute to everlasting romance and style.

🌟 Key Features:
✔️ Embrace Eternal Love: Our captivating design showcases a Day of the Dead couple, symbolizing eternal devotion and passion, making this case a perfect expression of your bond.
✔️ Premium Protection: Designed to withstand life's challenges, our case offers reliable defense against drops, scratches, and more, ensuring your phone remains secure and unblemished.
✔️ Slim and Chic: Elevate your phone's aesthetics with our slim, chic case that seamlessly complements your device while providing superior protection.
✔️ Unrestricted Access: Experience hassle-free access to all ports, buttons, and features without needing to remove the case.

🔥 Why Choose Our Day of the Dead Couple Phone Case?
🚀 Unmatched Quality: Crafted with care using top-tier materials, this case promises durability and elevates your daily mobile experience.
🚀 Symbolic Design: Embrace the profound symbolism of the Day of the Dead couple, a testament to your enduring love story – it's more than a case; it's a representation of your bond.
🚀 Thoughtful Gift: Share the joy of love with your partner, friends, or family by gifting them this unique and meaningful token of affection.

This form-fitting custom designed case is a great way to add a little personality to your phone. Sleek and lightweight, this protective cover helps to avoid scratches, scuffs, chips and cracks, and can act as a good buffer should you accidentally drop your phone. Wireless charging compatible if phone offers feature.

Soft Case is Soft thin rubber like TPU material- Wireless Charging compatible

Hard Case is a dual layer case with soft inner liner and hard outer shell
(Slim yet still offers great protection) - Wireless Charging compatible

Notched for cord connections, speakers, camera and volume toggles
Rubber button covers
PLEASE NOTE: We are not responsible for any damage that may occur to the phone. We recommend avoiding excessive bending to the phone case to prolong its life.
Imported; processed and printed in the U.S.A.