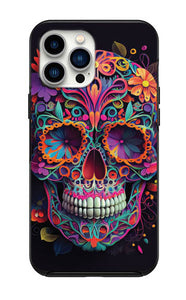 Day Of The Dead Beautiful Skull Candy Case for iPhone 14 14 pro 14pro max 13 12 11 Pro Max Case iPhone 13 12 Mini XS Max XR 6 7 Plus 8 Plus
Regular price $29.97 $15.95 Sale
"Experience Elegance and Protection with Our Day of the Dead Beautiful Skull Candy Phone Case! 🌼📱

Searching for a phone case that fuses exquisite design with reliable defense? Look no further! Introducing our latest Day of the Dead Beautiful Skull Candy phone case – a stunning blend of artistry and functionality.

🌟 Key Features:
✔️ Captivating Skull Candy Art: Celebrate the beauty of the Day of the Dead with our intricate and stunning skull candy design, a true masterpiece that reflects your unique taste.
✔️ Premium Protection: Our rugged case offers exceptional safeguarding against drops, impacts, and everyday wear and tear, ensuring your phone remains pristine.
✔️ Slim and Stylish: Embrace a sleek profile that complements your phone's aesthetics while delivering top-tier protection.
✔️ Precise Cutouts: Seamlessly access all ports, buttons, and functions without the need to remove the case.

🔥 Why Choose Our Day of the Dead Beautiful Skull Candy Phone Case?
🚀 Unparalleled Quality: Meticulously crafted from premium materials, this case is engineered to endure and enhance your daily mobile experience.
🚀 Artistic Expression: Make a bold statement with our mesmerizing Day of the Dead skull candy design – it's more than a case; it's an artistic extension of you!
🚀 Ideal Gift: Delight friends and family with a unique and thoughtful present that marries style and practicality flawlessly.

This form-fitting custom designed case is a great way to add a little personality to your phone. Sleek and lightweight, this protective cover helps to avoid scratches, scuffs, chips and cracks, and can act as a good buffer should you accidentally drop your phone. Wireless charging compatible if phone offers feature.

Soft Case is Soft thin rubber like TPU material- Wireless Charging compatible

Hard Case is a dual layer case with soft inner liner and hard outer shell
(Slim yet still offers great protection) - Wireless Charging compatible

Notched for cord connections, speakers, camera and volume toggles
Rubber button covers
PLEASE NOTE: We are not responsible for any damage that may occur to the phone. We recommend avoiding excessive bending to the phone case to prolong its life.
Imported; processed and printed in the U.S.A.