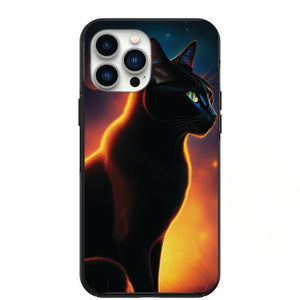 Black Cat With A Glow Phone Case for iPhone 7 8 X XS XR SE 11 12 13 14 Pro Max Mini Note s10 s10plus s20 s21 20plus
Regular price $29.97 $15.95 Sale
Introducing the Ultimate Black Cat With A Glow Phone Case - Illuminate Your Style!

🔮 Elevate Your Phone's Look with Our Black Cat With A Glow Phone Case 🔮

Discover the captivating allure of our brand-new Black Cat With A Glow phone case! This stunning accessory combines the mystical charm of a black cat with a radiant glow, creating a truly enchanting and unique look for your smartphone.

✨ Unleash the Magic - Stand Out from the Crowd! ✨

💫 Dazzling Design: Our Black Cat With A Glow phone case features an intricately detailed black cat silhouette that comes to life when exposed to light. Watch as it mesmerizes with its luminous glow, turning heads wherever you go.

🌙 Premium Protection: Crafted with utmost care, our phone case provides a secure and snug fit for your device, guarding it against scratches, bumps, and daily wear. The sturdy material ensures long-lasting protection, making it a purr-fect choice for your valuable smartphone.

📸 Picture-Perfect: With precise cutouts and easy access to all ports and buttons, capturing memories and sharing moments has never been easier. Preserve the purr-ecious moments in style, thanks to our Black Cat With A Glow phone case.

🎁 Gift of Whiskered Delight: Searching for the perfect gift? Look no further! This phone case is a must-have for cat lovers, trendsetters, and anyone seeking a touch of magic in their lives. Surprise your loved ones with an enchanting present they'll cherish forever.

Slim Soft Jelly Case- Soft ULTRA thin rubber like TPU flexible material with a small, raised edge around display and camera.

Slim Protection Case -The case features a lightweight hard shell, impact-resistant frame, that provides increased drop and shock protection. The rubber like material outer raised edge around the screen and camera shields the display from accidental drops & impacts, and corner protection.
Both cases are wireless charging compatible. If phone offers wireless charging.
PLEASE NOTE: We are not responsible for any damage that may occur to the phone. We recommend avoiding excessive bending to the phone case to prolong its life.
Imported; Printed and packaged in the U.S.A.