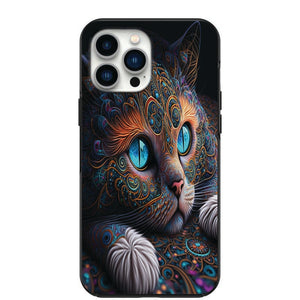 Beautiful Exotic Cat Phone Case for iPhone 7 8 X XS XR SE 11 12 13 14 Pro Max Mini Note s10 s10plus s20 s21 20plus
Regular price $29.97 $15.95 Sale
Introducing our stunning new Beautiful Exotic Cat phone case! Experience the allure of rare and breathtaking feline beauty with this captivating accessory that celebrates the unique charm of exotic cat breeds.

🐾 Embrace exotic elegance: Our Beautiful Exotic Cat phone case showcases the mesmerizing beauty of rare and distinctive cat breeds, bringing their elegance and grace to the forefront.
📱 Protection in style: Crafted with high-quality materials, our case offers reliable protection against scratches, drops, and everyday wear and tear, while showcasing the captivating beauty of these extraordinary feline companions.
🌺 Celebrate uniqueness: Featuring an exquisite depiction of an exotic cat, this case is a must-have for cat lovers and admirers of rare breeds, allowing you to display your appreciation for their unique characteristics.
👌 Perfect fit, easy access: Designed to fit your phone flawlessly, our case ensures effortless access to all ports, buttons, and features without compromising on style or functionality.
💫 Stand out with sophistication: Elevate your style with this elegant accessory that exudes sophistication and highlights your love for the enchanting beauty of exotic cat breeds.
✨ Make a statement: Let your phone become a canvas of feline allure with this distinctive accessory that celebrates the remarkable qualities of exotic cats, making a statement wherever you go.

Indulge in the beauty of exotic cats with the Beautiful Exotic Cat phone case. Be captivated by their elegance and make a fashion statement! Shop now and let your phone reflect your love for these extraordinary feline companions.

Slim Soft Jelly Case- Soft ULTRA thin rubber like TPU flexible material with a small, raised edge around display and camera.

Slim Protection Case -The case features a lightweight hard shell, impact-resistant frame, that provides increased drop and shock protection. The rubber like material outer raised edge around the screen and camera shields the display from accidental drops & impacts, and corner protection.
Both cases are wireless charging compatible. If phone offers wireless charging.
PLEASE NOTE: We are not responsible for any damage that may occur to the phone. We recommend avoiding excessive bending to the phone case to prolong its life.
Imported; Printed and packaged in the U.S.A.