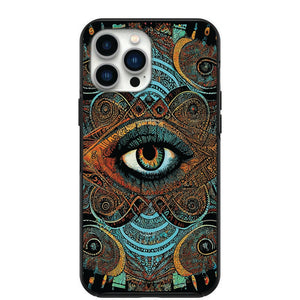 Beautiful Evil Eye Mandala Phone Case for iPhone 7 8 X XS XR SE 11 12 13 14 Pro Max Mini Note s10 s10plus s20 s21 20plus
Regular price $29.97 $15.95 Sale
Introducing the Beautiful Evil Eye Mandala Phone Case - Embrace Protection and Serenity!

Discover the perfect blend of beauty and safeguarding with our exclusive Beautiful Evil Eye Mandala Phone Case. Inspired by ancient symbols of protection and adorned with mesmerizing mandala patterns, this accessory will elevate your phone's style while providing uncompromising defense against life's daily challenges.

Why choose our Beautiful Evil Eye Mandala Phone Case?

Captivating Design: Immerse yourself in the enchanting world of mandalas, meticulously crafted with intricate details. The Beautiful Evil Eye Mandala design is a feast for the eyes, combining vibrant colors and sacred geometry, making your phone a true work of art.

Enhanced Protection: Shield your phone from the evil eye of accidental bumps, scratches, and drops. Our case offers reliable protection, ensuring your device remains pristine and intact, no matter what life throws at you.

Tailored Precision: Designed specifically for your phone model, our case provides a snug fit and easy access to all buttons, ports, and features. Enjoy seamless functionality without compromising on style or protection.

Premium Quality: Crafted with the utmost care and using high-quality materials, our Beautiful Evil Eye Mandala Phone Case guarantees durability and longevity. Rest easy, knowing your phone is protected by a case that's built to last.

Slim and Lightweight: Embrace the perfect balance between protection and convenience. Our case offers a slim profile that maintains the sleekness of your phone while adding minimal bulk. Slip it into your pocket or bag effortlessly.

Tranquil Serenity: The Evil Eye Mandala design is not only visually stunning but also carries a sense of tranquility and positive energy. Embrace the harmony and serenity it brings to your everyday life.
Unlock the Power of Beauty and Protection - Order Your Beautiful Evil Eye Mandala Phone Case Today!

Elevate your phone's aesthetics while ensuring its safety with our Beautiful Evil Eye Mandala Phone Case. Indulge in the captivating fusion of design and protection, allowing your device to reflect your unique style and personality. Don't miss the opportunity to embrace beauty, serenity, and defense - order your Beautiful Evil Eye Mandala Phone Case now!
• Slim Protection Case -The case features a lightweight hard shell, impact-resistant frame, that provides increased drop and shock protection. The rubber like material outer raised edge around the screen and camera shields the display from accidental drops & impacts, and corner protection.
• Both cases are wireless charging compatible. If phone offers wireless charging.
• PLEASE NOTE: We are not responsible for any damage that may occur to the phone. We recommend avoiding excessive bending to the phone case to prolong its life.
• Imported; Printed and packaged in the U.S.A.